There is a person whom I loved and lost to suicide.  Like most people,  I have experienced grief more than once in my life,  but there is a complexity to suicide loss that is hard to convey.  There is a place that I go to often when I am thinking about loss — it is the cemetery in my hometown where many of my family and ancestors are buried, including my family member lost to suicide.  I worried at first that he would not be there, that he would not be honoured the way we would want him to be, because my family plot is deep within a catholic cemetery, in our catholic home town.
These are some of the things that people who lose a loved one to suicide may have to think about.  How do we celebrate how he lived and loved and not turn away from how he died?
Recently I had the opportunity to attend a session that Klinic offers regularly entitled Suicide Loss and Bereavement for Service Providers.  This session helped me further shape my thoughts around what that complexity in loss is, the quagmire of experiencing grief within the larger societal context of judgment and stigma, histories that are so often not helpful to those who are left behind.
When supporting people who have lost someone to suicide there are so many things we need to think about.  This is why Klinic offers this course along with other services of SPEAK  (Suicide Postvention Awareness and Knowledge).  SPEAK's mandate is to provide information to community and communities of support for people impacted by suicide.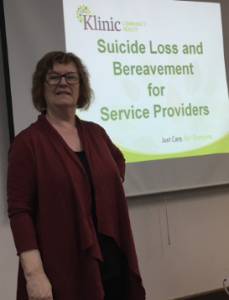 Klinic's SPEAK Counsellor, Terry, is facilitating this workshop today which has service providers from within Klinic, family services, addictions, and other service delivery partners attending.  On average this program runs once or twice a month with 15 participants per session.  Terry begins by acknowledging, just as I have shared, the very universal experience of suicide, and that most of us have personal and professional experiences of loss to suicide. In fact, 36000 Canadian will experience loss of a loved one by suicide annually.
Why do people die by suicide?
The workshop acknowledges that though this is often the first question, it is very complex. People are often experiencing a mental health crisis and death by suicide often occurs when pain and suffering overwhelms the sense of hope and connection.  It is important to note that a mental health crisis is not the same as a mental illness, and though people with mental illness are at increased risk of suicide it is not necessarily the case in all suicides.
There are many complications of death by suicide for those left behind, often including questions like, what did I do? How could I have stopped this?
I think about how often I have had this thought. As a mental health professional it can feel like an added layer of self-blame when you lose someone to suicide, particularly when, as in my case, there has been an important contact in the days before.  A feeling like you should have seen the signs.
It is difficult for many to understand how someone chooses to end life.  As a society we have a legacy of unlawfulness and shame; this is demonstrated in use of terms like 'committed', a holdover from times in the past where the act of suicide had been a crime.  In my life, I have seen the impact of religious beliefs around suicide and how they can impact those left behind.  Beliefs and stigma can also impact us as service providers if we are not aware of how these ideas and judgments can shape our personal bias when supporting family members.
Losing someone we love to suicide may challenge our understanding about how much we know about what's going on in our lives and with people we love. It may cause us to question our perception and competence; it also challenges our coping, and we may experience feelings of shame and being shamed.  In addition, we may experience the difficulty of others not feeling able to talk about suicide, which challenges our support system.  When you bring all these factors together, it is not a significant surprise that those who experience suicide loss are then at greater risk of suicide themselves.
What can service providers do?
It all starts with compassion. Meeting people with compassion and kindness, not an intent to change or fix.  This can only happen if we let go of judgment and imbalances in power. It is necessary to be mindful of our language which can increase stigma and reinforce social constructs that are not helpful, as previously discussed.  The problem is not that we have beliefs; it is when they get in the way of supporting others because we are unaware of them that they become a problem.  We need to know our own biases to meet others in an equal way.
Stigma is reduced by breaking the silence and having constructive informed conversations about the reality of suicide.  One of the things I am very thankful for is that when my family member died, his family had the courage to name it, to acknowledge how he died along with how he lived, ensuring that all of us could grieve in a full and open manner, together.
Suicide loss is a traumatic loss and we may feel all the feelings that arise in traumatic events and loss including suicide ideation. The impacts of trauma are important to remember when supporting others, along with the fact that we don't get over the loss of a loved one — we learn to live with the reality of it. It is not our job to create closure or ending.
The death of someone precious is not to be resolved but to be expressed, storied, experienced, and gently over time in small doses find its way to meaning." –Wolfelt
Ways to be helpful (from workshop slides)
To provide space to process the experience in their own way
To be present, authentic, genuine, compassionate
To remember that there is no right or wrong way to feel, respond or grieve and mourn
To suspend all judgments, assumptions, and comparisons
To remember and highlight that whatever reactions, feelings or questions the bereaved individual has are understandable considering the loss they have experienced
To journey with not lead
Ultimately, it is about being present to another person's pain, not taking it away, and in order to be present we need to acknowledge fully our own experiences with suicide and take care of our own needs first.
Resources
Manitoba Suicide Prevention and Support Line 1-877-435-7170
Mental Health Help Line for Indigenous People 1-855-242-3310
Calm In the Storm (website and free app) 
Canadian Association for Suicide Prevention: suicideprevention.ca
Mental Health Commission website
Alan Wolfelt's website: centreforloss.com
Winnipeg

Klinic Drop in 204-784-4067
Individual and therapy group 204-784-4059
SPEAK peer support group 204-784-4064

Brandon