Last week, both management teams from Klinic and SERC took part in two days of training on coaching for performance.  At Klinic this action, along with implementing National Standard of Canada for Psychological Health and Safety in the Workplace (The Standard), are key strategies of the operational plan, associated with the first outcome of our strategic plan:

Klinic is a Healthy, Respectful, and Collaborative Workplace. 

At SERC, we are implementing these same measures with a commitment to the same goal.  We actually began this work before finalizing the strategic plans with the implementation of a new performance review process last year, focused on coaching and goal setting as well as management training in other key including change (which I blogged about last January).
One of the areas that I found very helpful in this training was the crossover with previous training in change management, using the ADKAR model.  It has been my experience that by taking part in the same trainings and utilizing similar models, teams are better able to plan and support each other, as well as speak a common language.
So what is coaching?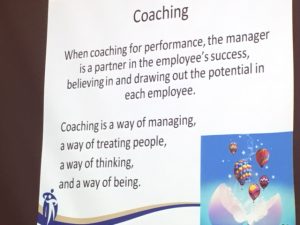 Coaching is intended to be a thought provoking and creative process that inspires an individual to maximize their personal and professional potential.  The goal of coaching for performance is to build awareness, responsibility and self-belief in the employee.  (WRHA Performance Coaching Participant Guide)
What I love about the coaching model is how well it fits in with the 13 factors we are implementing from The Standard.  For some background, check out my blog from last May on our plans to implement The Standard together with our colleagues across the community health sector in Manitoba.  The coaching model can support several factors of a psychologically healthy workplace, including growth and development, leadership and expectations, and involvement and influence. Coaching can be done both formally and informally, as the essence is reflected in the wording and the intention.
The foundational beliefs of coaching really resonated with me and others present, when we considered the high congruence with our organizational values.  The beliefs are:
People possess more potential than they are currently demonstrating (which I believe is likely true about all of us)
People are innately capable and innovative
People want to do a good job
Each employee is a whole person
When we discussed these beliefs, our team struggled with an activity where we had to try to argue against any of these- it was hard to imagine any other possibility, especially, we noted, when we looked at the incredible passion that exists in our organizations.
The key skills of coaching include:
Listening
Asking powerful questions
Acknowledging
Offering perspectives
Though these may seem rather basic at first blush, the reality is that in fast paced work environments, where managers are often groomed to be good problem solvers, sometimes coaching can seem a little awkward and not a first instinct.  This led to my favorite visual activity of the training:
SHUT THE DUCK UP!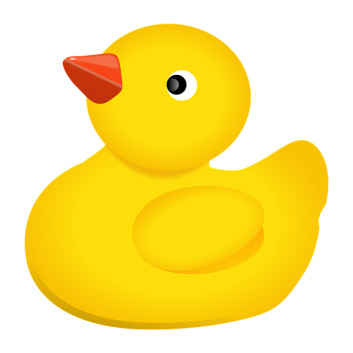 So staff: if you notice any of us randomly putting rubber ducks in our office, you will know the intent-it is to remind us that the core component of coaching is listening, not talking.
We spent day two practising using the GROW model with several very challenging fictional scenarios.  One thing I learned is, given fictional scenarios, our management teams can act!  They made us believe and moved us to tears. It was really something. And, it was really hard sometimes to shut the duck up (never my strong suit).
So what is the GROW model?
Goal- Set a goal for the conversation
Reality- Check and explore the current situation
Options-What are the possible strategies or actions
Will- What will be done, by whom and when
This model really allowed me to focus on what was being said, and help set a format for where to go, and frankly, often it was really surprising!  What was not surprising was when Rosemarie (Klinic's Director of Counselling & Community Health) came to talk about her challenge of being on thirteen workplace committees; somehow, I am not actually sure that one was fictional…
I want to end this blog by writing about something that occurred very early in the training, when we were asked to think about the attributes of our own best coaches. The experience that kept coming back to me was of the very first public health team I supervised, who were all very senior experienced nurses, with (they would frequently remind me) children my age.
What I learned from this amazing group of women, was how much of my job is to listen, support, and get out of the way of good work.  In fact, almost everyone's examples included that their best coaches had taught them how to learn from the people they were coaching.  It reminded me of what I think community based organizations are all about: listening, learning and growing.