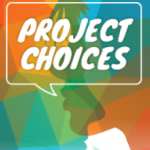 Project Choices is a free program that explores alcohol, sex and birth control. It is a brief service that offers information and individualized feedback to help individuals make healthy decisions for themselves about alcohol use and contraception.
This program is based on respect, information and support. Project Choices is about your needs and goals – no one will tell what to do or that you have to change. We want to give you the information you need to make the best choices for your health.
This program is for individuals who are not pregnant, but who are sexually active and using alcohol.
Did you know?
50% of all pregnancies are unplanned.
Pregnant people may continue to drink without knowing they are pregnant.
During pregnancy, no alcohol is best.
The program includes:
Up to 4 sessions to discuss drinking, sex and birth control.
1 visit with a nurse to get information about birth control options.
Topics discussed include

Drinking norms
FASD
Current use of Alcohol & Birth Control
Birth Control methods and STI's
Change plans (alcohol and birth control Goal-setting)
Resources