A guest blog entry from Dr Mike Dillon MD CCFP, Medical Director, Klinic Community Health.
You may have heard of Klinic's colourful history; how we were founded in the 1970s by politically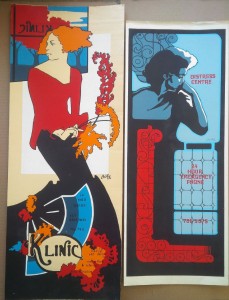 active, social-justice minded folks who saw a pressing need for a cool, safe haven in Winnipeg. We were reminded of these roots recently when a long, slim package from David McEwan, post marked "Honolulu, Hawaii" arrived in the mail at our 870 Portage Ave location.  Inside were two beautiful, unique posters harkening back to the very earliest days of Klinic, samples of our rich visual history.
Dr. McEwan, as he has been known professionally, had stopped in at Klinic on Portage late this past summer. He has been living and practicing medicine in Honolulu since finishing his training at the University of Manitoba in the early 1970s.
It was his first time visiting the building, and he was pleased to see that the Klinic he and his medical student friends had started in 1970 was not only still in existence, but was vibrant and growing, while still retaining its roots in community support and active engagement.
David kindly met with some of our staff, and shared stories of how our community health centre got its start.
As was the mood in the late 1960s and early 1970s, there was a sense of change and excitement in the air, as well as scents of other things.  In the cultural afterglow of Woodstock, Janis Joplin and some of her best musical friends were engaged to "Take the Show on the Road" as promoters rented an entire CN Passenger train and took it across the country, stopping for "pop-up" concerts in the Toronto, Winnipeg and Calgary.
You can learn more about The Festival Express in this article courtesy of the Manitoba Music Museum.
The organizers wisely thought there might be need for medical support at the Festival, and approached some medical students to see if they could help out by providing First Aid for young people having "too much of a good time".
David McEwan was one of the students who was approached and, along with his friends, organized a small crew of volunteers to help out; some of their Psychiatry Professors also assisted, with the expectation that they might be useful in helping people suffering from "Bad Trips".
The Winnipeg Festival Express event was relatively calm, from a medical point of view (and a financial bust, from the organizers' point of view). Despite this, the First Aid crew was offered financial compensation for their efforts.  The students had no idea what their services were worth, so they quoted a price of "a thousand bucks", which was promptly paid, probably in cash.
The medical students had no expectation of payment, and no intention to keep the money, so they decided to use it to start up a service to provide young travellers with medical help and support.  This service, initially located on Notre Dame Ave, was the origin of what would become Klinic.
Dr. McEwan had not been back to Winnipeg since medical school, but was aware that in the early 1970s Klinic's model of care, which included concepts now known as "harm reduction", was used to demonstrate community-based models of care to visiting Provincial Ministers of Health.
He mentioned how gratifying it was to see Klinic thriving after 45 years, saying "you only know you have succeeded when you return to a place you started and it is going strong, and nobody knows who you are".