Guest blog by Mary Jo Bolton, Clinical Director and Janet Smith, Manager, Counselling Services Farm, Rural & Northern/Suicide Prevention Coordinator.
For over 40 years, Klinic has been involved in suicide prevention and post-vention activities. These activities range from public education which raises awareness about suicide, training of professionals in suicide risk assessment and intervention strategies, and board and committee work at the national level in the development of Canadian efforts to reduce suicides. Klinic also does counselling through our 24 hour Manitoba Suicide Prevention   & Support   Line as well as individual and group suicide bereavement counselling. Klinic uses technology in its' efforts towards eliminating suicide through our Reason To Live website (www.reasontolive.ca)   and free Calm in the Storm App and website (www.calminthestormapp.com).
World Suicide Prevention Day is an annual event that Klinic  in  both Winnipeg and  Brandon  has participated in for several years. It is one day a year that many cities across the world stop to acknowledge suicide as a major health issue that we can directly impact when we work in a collective and collaborative manner. This year, the theme of our event with the Winnipeg Suicide Prevention Network, was 'Building Communities of Hope and Resilience'. This theme speaks to the importance of coming together to prevent suicide and to support those who are bereaved by suicide loss. You can read more about the event, which was held on September 8th in this  press release.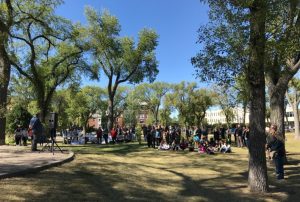 Folks in the community have also started holding their own events in honour of World Suicide Prevention Day; you have probably heard  the term  Pay It Forward –motorcycle enthusiast, and suicide prevention advocate, Kris Goodman recently started a new movement called   Patch It Forward.   After a loved one close to Goodman died by suicide, he  came up with the   LEAN ON ME  patch.   Each patch sells for $10.00, half of which gets donated to the   Manitoba Suicide Prevention & Support Line and half of which goes to making more patches.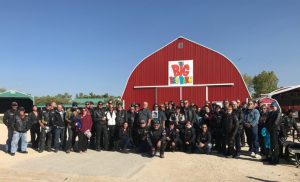 Goodman also organize a motorcycle ride to raise awareness about suicide prevention, from Winnipeg to Brandon, which was held on September 9th. More than 75 folks turned up to ride, including   Leanne Brackenreed, Crisis Line Counsellor, who joined the ride part way on her motorcycle, and continued on to Brandon where she spoke on behalf of Klinic.   Last year's "Breaking the Silence Suicide Awareness Ride" raised over $2000 for the Manitoba Suicide Prevention & Support Line!
Our lines are open to people of all ages, genders and backgrounds. You do not have to be in crisis or suicidal to call. More information is   available here.