Several months ago Maureen Rice, Crisis Program Coordinator, approached Cindy Fawcett, Art Therapist / Counsellor at Klinic, with an idea to invite our art therapy clients to create something that embodies their gratitude for our crisis staff and volunteers. Maureen expressed a desire for the Klinic team to experience a heartfelt appreciation for the difficult work they do on the lines.
Cindy loved the idea… and ran with it! During the summer, clients gathered to create and share their experiences of receiving care, support and guidance from those who choose to 'help' in some way. She documented her own experience of what was witnessed, gathered the countless flags that were created and presented this to the crisis staff at their meeting in September.   At this meeting, staff were invited to spend some time with these flags and then engage in an art response to what they were feeling at the time.  Staff then strung their responses amongst the flags and the entire project was taken back to the art therapy group. Once clients had a chance to receive this offering from Klinic staff, the flag project was installed in the crisis room where thousands of crisis calls are received each year.
This was an incredibly meaningful process for everyone involved. I hope you will take some time to read Cindy's account of our clients experience of self expression through art. This account was written for Klinic crisis staff and volunteers.
 GRATITUDE FLAGS: Being Witness to the Process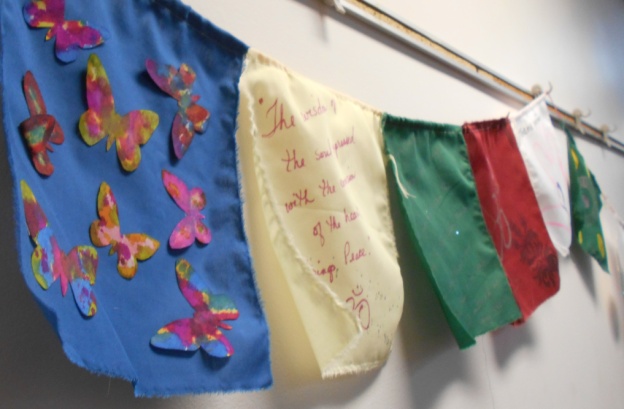 In August of 2017, members of the Art Therapy Group gathered to create flags in honour of all of you.
Many of those who created these flags have been and continue to be clients of the crisis lines, drop in and the life in balance program. Some who gathered, had not accessed the crisis lines ever. My invitation was for folks to think of a time when they felt, 'felt'. I asked group members to connect with the part of them that remembers what it felt like to be heard, understood and supported.
Group members chatted as they worked to sort out supplies, determine what to create and find ways to best communicate their gratitude in a meaningful way. Some group members dove in with great enthusiasm, while others reflected and shared, with words, their experience of feeling cared for with the rest of the group. Others still, were tentative and wanting to get it "just right".
Mostly, the group connected and bonded in their experience of pain and their experience of feeling cared for. They told stories of being on the edge of ending their lives, and receiving hope that got them through one more day. They shared the pain of not having anyone in their lives they could confide in, and the gentle voice on the phone that made them feel heard and important. They shared their deep love for this place, for each other and the people who choose to work with those in tremendous pain.
I told the group that what they were doing was powerful. That many of the folks who work on the lines never get a chance to truly see the impact they have had on them. I told them that what they were doing was honoring of themselves and their own courage and the courage of those who supported them.
In the end… the group shared their experience of creating for all of you. What they expressed was heartfelt gratitude… gratitude for listening… for understanding… for "getting me". Gratitude for allowing their tears to flow and for offering another perspective. Gratitude for helping them see the goodness in themselves when they could not.
One group members voice shook as she shared. Through her tears she shared how this place has saved her life. She shared that without this team of caring people she would not be in a place where she can actually live her dreams. She shared that she is not longer surviving, but living her life without the constant fear of ending it. They wanted you to know… you save lives. You make people feel valued. You help people see the gifts they cannot see. You give a part of yourselves so they can grow.
Cindy Fawcett (Art Therapist, Art Group Facilitator)