Like many people, I cannot say that my relationship with food is always healthy.  Food means so many things in our society; it is a critical form of sustenance, it is often a connection to those we love and our pasts, eating can offer comfort and joy, and for many it can be a real source of angst. We all need to eat in order to survive, and what we eat can greatly influence our overall health. Developing healthier relationships with food can be a key factor in optimal health.
Last week I spent some time with Klinic's dietitian, Lisa Begg. Lisa has been with Klinic for 10 years and has seen and been a part of a lot of changes and development around how we address nutrition as an organization.  Lisa's role is ground zero in an inter-professional team- she is one of the few staff at Klinic who is the sole person in her role. She works with clients across the agency, as well as our external partners.  Lisa describes this as both a great opportunity and also at times challenging.  Her mandate is huge. We talk about her average day of seeing 4-5 clients, taking messages from referral sources, clients and the community, plus providing presentations and workshops both at Klinic and in the community several times a month. I often say that because Klinic does so many different things, our communities that we support may have very different perspectives of the work that Klinic does. I am sure for some, Klinic means Lisa.
The work Lisa does around food security can be linked directly back to Klinic's positon paper on poverty and its role in the social determinants of health.   In addition, Lisa's work lines up with several key areas of our strategic plan, with an increasing focus on access.
I love the passion Lisa has for how nutrition can change lives. I have watched her advocate for key areas of inclusion of nutrition in decision-making, including consulting with government on what to include in dietary recommendations, to working within Klinic, such as presenting to counselling program groups. I was able to experience this by sitting in on her presentation to the Calm in the Storm group.
Calm in the Storm is a six-week series covering topics from our Life in Balance program. Topics discussed are living a balanced life, emotional and mental well-being, coping with stress, exploring spirituality, developing self-compassion, good food for well-being, and getting restful sleep. Each session includes some information, time for discussion and some practice (yes, even the one on sleep!). This series was developed as an expansion of  Klinic's innovative, free Calm in the Storm app and website.
Providing increased group based education is a key strategy under access to care in our strategic plan, as well as part of our position on equitable access to care.   Lisa (and  me!) are very excited that Klinic, along with many partners, will  soon launch the Craving Change Workshop series – an evidence based cognitive behavioral workshop series that works to change our relationships with food.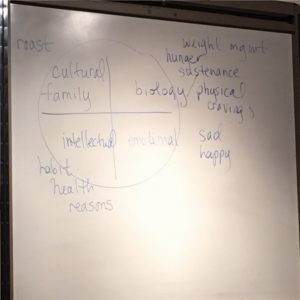 Lisa uses some of the strategies that are taught in this model for her session with the Calm in the Storm group I get to sit in on.  She also provides information on how to take the full workshop in the future.
The group I participate in has about five participants that have been regulars in the Calm in the Storm series.  The counsellors running the group start with a check in and then introduce Lisa for the topic of the day.  I am really impressed by how much information Lisa is able to share in under two hours, while still allowing for robust group conversation.  Topics include:
Food and Mood connections (for example- which foods might have long term mood benefits, and which can put us in a bit of a spin- see Nicole's 3PM hot chocolate….)
Comfort foods and what they mean for us (see Nicole's 3PM hot chocolate…)
Micronutrients and how to get the most of our food
Probiotics
Benefits of certain foods such as those in the Mediterranean type diet (not hot chocolate)
I am also impressed by how easily Lisa weaves in best practice and where evidence is building in certain areas, such as the gut- mind connection, Omega-3, and the benefits of olive oil.  The approach is very much what I have come to expect at Klinic: it is compassionate, and it acknowledges how larger influences like life experiences, and social determinants such as poverty, have a powerful influence on our food decisions.  It is a truly integrative approach to health.
I leave with many thoughts on how I may personally make small changes to improve my nutritional intake.  I wonder what olive oil tastes like in hot chocolate?