Teen Talk, formerly of Klinic, and now a program of SERC, is a Youth Health Education Program that provides services for youth from a harm reduction, prevention education perspective. Teen Talk focuses on sexuality, reproductive health, body image, substance use awareness, mental health, issues of diversity and anti-violence issues.
Teen Talk also works with the belief that by providing youth with accurate, non-judgmental information, they can make healthier decisions and choices for themselves.  One of the ways Teen Talk does this is by offering Peer Support training for youth to be better able to support their peers and school populations in the key areas of focus listed above. This training also takes place in-school and community groups throughout Manitoba.
Teen Talk usually offers three sessions a year which bring together about 15-18 youth from a variety of high schools, who are recruited through schools and Volunteer Manitoba. Participation counts towards volunteer credits as part of the school curriculum. Though there is no formal obligation post-training, peer supporters often will be involved in Teen Talk theatre groups and skits for middle school students, and community events like Take Back the Night and Pride. Mostly participants are expected to bring what they have learned back to their school and informally support students in a variety of ways.
Last night I got to sit in on week 7 of 11 weeks of the peer training; I was very intrigued by the topic, body image. This is a topic near and dear to me and, in particular, how as a society we do so much violence to young minds by allowing them to be shamed by media and companies into believing that their bodies are somehow not right.
As always with many SERC functions, the evening starts with food.  I help Erica, one of the facilitators, pour out bowls of Doritos and cut up plates of cucumbers and cheese. Erica tells me that cutting and arranging the cucumbers is one of her favourite things. I also love that she gently redirects me when I start muttering about the significant amount of Doritos I inhale while setting up, a truly teachable moment in the making.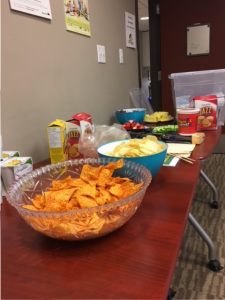 The voices of the young people fill the halls as they start to spill into the room, it goes from serene food prep to orderly chaos in about five seconds. Suddenly there are young bodies everywhere, draped over furniture along with their various articles of winter clothing, jostling in the kitchen for the kettle for their instant noodles. I love the sound of them all, like a big happy family.
Once settled in the group starts with checking in and an exercise where they write compliments for each other to read, the one I received read; you are important, amazing and necessary.  What a lovely start to an evening.
Erica and another Teen Talk facilitator, Vanessa, lead the group through a variety of discussions to help them consider the topic, including:
What is body image?
Where do we get messages? E.g. social media, internet, magazines
How do messages influence what we think?
There is a lot of discussion about how much these messages influence our thoughts and how little it has to do with how we actually look. We do a great activity where we imagine what goes into the average celebrity picture, it's amazing how many ideas are the same; Photoshop, diet, surgery, the list is so long!  We crumple these lists up and throw them at each other before reading them, a snowball fight to get us moving and remind us of how we are bombarded by these ideas. The lists reflect all of the time, money and energy going into the ideal look, which is usually based on western images of power.
So what is the revolutionary counter to this culture? Believing we are the real deal. That we are amazing and beautiful and it's ok to like and value ourselves, and each other, just as we are (as per Erica).  We talk a lot about what a healthy body image vs. an unhealthy one might look like, and understanding most of us are on a continuum (See Doritos). However, as I talked about, Erica's response and modeling to my own potato chip judgement is where peer supporters can play a powerful role, they also can model this by being body positive of themselves and others.
As we talk about modeling and supporting, the team effortlessly works in issues like eating disorders, and resources like teen clinics and the Provincial Eating Disorders Program.
We also talk about using language in a non-judgemental way, e.g. fat bodies, skinny bodies; these do not need to hold value. In fact, many of these definitions are shifting rapidly with cultural norms, and are different across different cultures.  For example, the new language of thick vs. fat or examples from young African women in the group who have experienced bigger is better messaging in their community.  These young women also speak about the huge impact of white skin as the ideal and having to live within that culture. Body shaming is not just about shape.
The group ends with the future peer supporters taking selfie love photos in front of positive messages they have constructed, and another great activity where they write positive messages to each other. Ultimately positive body image for most people can be a lifetime project of learning how we are able to find that validation within ourselves (as Vanessa points out), and the more we are able to support ourselves on the path to self-love, the more we will be able to support each other.