Every time I sit in on a youth group, I learn something new or I am challenged in a new way.  Recently I had the opportunity to sit in with one of our SERC Sexuality and Reproductive Health Facilitators, Erika, on week 4 of her 12-week series at a partnering high school.
These workshops, aimed at newcomer students, focus on understanding sexual health and rights in Canada, as well as so much more; every time I attend, I take away something new.  Today's topic is diversity.  I am daunted by the level of participation; we recently came to the decision to divide this group, as we are looking at approximately 30 young people piling into the room. The first thing that hits me is the noise. They are joyous and raucous and really something to watch. I am always amazed at how our facilitators are able to maintain attention in this kind of scenario- but mostly, they do.  I have noticed candy seems to help a lot.
I really enjoy watching Jean Paul, an education student originally from Rwanda, who works with us to help keep the group on task.  His role seems to fall somewhere between a bouncer and a good-hearted mentor.
One of the ways SERC addresses diversity is talking about sexual diversity, through images such as the sexuality wheel: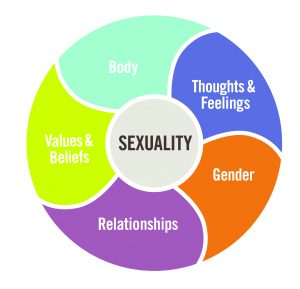 Erika seamlessly moves from talking about the rainbow of gender and orientation to gender myth busting. The class is easily able to share gender stereotypes from both Canada and from their previous home communities. The point that I love, that sticks with me, is the title of this blog, the difference between choice and assumed roles. It is true that for example, some women may enjoy cooking or providing childcare, both of which are common gender stereotypes, but no one should be doing something simply because society suggests that their gender dictates it.  The reality is, the more we challenge common gender stereotypes, the more we are likely to decrease the tsunami of women and gender diverse individuals who are impacted by gender based sexual and physical violence and diminish power imbalances.
That's why I love the practical way this session ends. Groups of youth act out skits where they are asked to display and intervene in various bulling scenarios around sexual orientation and gender.  These youth are pros; they stand up for each other with both strength and wit. I am heartened and optimistic for our future.