Megan has been working in the Klinic Sexual Assault Crisis Program for about 4 years, starting as a volunteer, then casual staff, and now as one of two staff who do intake. When I sat down to talk to Megan about what it is like working in this program I asked her to reflect on her whole experience, having been involved in so many different ways. As a volunteer Megan started like all our volunteers, participating in our comprehensive crisis volunteer training program, however, as she was interested in doing work in the Sexual Assault Crisis Program (SACP) she took an additional 2 days of training. This training allowed her to not only answer our crisis lines, but also the sexual assault response line, and to respond to calls to support anyone presenting at hospital or making a police report after an assault. As our services are offered 24/7, our volunteers are the heart of the program. Volunteers are called out to attend to the hospital at all hours of the night; the dedication and commitment of the women in this program is impressive. Eventually Megan also started doing one on one counselling after completing sufficient supervised support work.

It is probably important to clarify what we mean when we talk about sexual assault. The Klinic website describes it as:
• Any non-consensual sexual contact that is verbal, emotional or physical.
• An act of violence or aggression involving a sexual attack that is verbal, emotional or physical.
• Unwelcome sexual comments, harassment or threats that make you feel uncomfortable, violated or under attack.
• Touching in a sexual way without permission.
• Forced kissing or fondling.
• Forced oral, anal or vaginal penetration (rape).
One of the things that Megan highlights when talking to clients about sexual assault, is how common it is. Though very under reported, conventional statistics estimate that 1 in 3 women and 1 in 10 men, will experience sexual assault in their lifetime. This is where the title for this blog arose from, as it is a quote Megan says she often says to clients to help them normalize what happened: "It happens to a lot of us…"
In fact, for many women it will happen more than once in their lifetime. This is an important factor that we consider in our intake process and counselling. Repeated traumatic events can create a need for much more intensive longer term counselling, and therefore are often referred to our trauma counselling program. For people who are dealing with a more specific, recent event, and wanting support, they will usually attend 6 to 12 sessions with a SACP volunteer or staff member, depending on the fit and availability. To be seen by a SACP counsellor, the sexual assault does not need to be recent and we do see clients who may be dealing with the assault years later. Sexual assault can also trigger past trauma and create a need for longer-term counselling and a referral to the Trauma Program.
When I asked Megan whether there were themes that arise in the work she talked mostly about another important statistic. Three out of four people know their assailants. Many survivors struggle with rebuilding their ability to trust others, to feel safe. For others it may be letting go and grieving what happened. Megan recalls one of her most poignant client moments was with a person who after several sessions told her that she cried for the first time, and that now she felt able to move forward, and did.
Another common refrain that can be heard from SACP counsellors is "It is not your fault". The reality is that many people who experience sexual assault feel stigma, self doubt, and shame for what happened. We are often asked why sexual assault is so under reported. Though the reasons can be different for everyone these themes are often heavily contributing factors. The reality is it can be very difficult to report someone that you know for many reasons, and for any assault there can also be fear of judgement or being blamed.
In Winnipeg there has been a great deal of work through partnerships with the Winnipeg Police Sex Crime Unit and the Health Sciences Centre (HSC) Sexual Assault Nurse Examiner Program to create safer places and processes for follow up treatment and reporting. This includes the establishment of a sexual assault treatment suite at HSC, and the ability to have support people from Klinic present during follow up and interviewing. Due to the nature of our justice system, some find the process of reporting to be triggering; however others find it empowering. SACP counsellors can work with individuals to determine what is the best fit for them, and support them through every step of the way.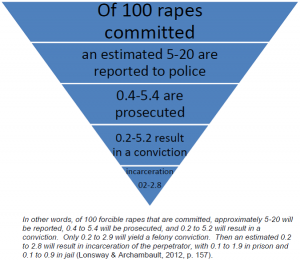 When I asked Megan what she thought was the most important thing that we do she said that she felt all of the work was incredibly important, but the fact that Klinic is there from the very start offering support and advocacy, and that it is something that really only we do, was fundamental to her. I agree. Being there in the hardest moments, I have learned, is one of the things that makes the work of our staff and volunteers at Klinic so special, and critical to our community.
For more information on Klinic's Sexual Assault Crisis Program visit http://klinic.mb.ca/in-person-counselling/sexual-assault-crisis-counselling/.