This last week I have been asked more often than I could have ever thought possible about my thoughts on Donald Trump.  Specifically, about the comments that I am sure most everyone alive and existing in the western world have heard, made by Mr. Trump and Mr. Bush that were released to the media.  Just in case you managed to avoid this, here is a comprehensive synopsis by the Washington Post.   I ask that after you get yourself up to date you delete that link and never listen to these words again.
I have tried to make it a habit to avoid commenting overly on the politics of a foreign nation.  I know that like many Canadians, this has been particularly hard to avoid in what appears to be an unprecedented election for our friends to the south. It is hard not to see the potential impact that this choice could have on many issues that are important to Canadians.
When we see a person who is so close to assuming a position that wields significant power and influence around the globe, and is clearly comfortable with using language that incites hate and violence against women and ethnic minorities, it is hard not to feel like there may be a place for more voices here.   And perhaps, like in many crises, we can find opportunity.
I've said before, and I truly believe, that often it is the things that a society does not talk about, that are the most dangerous.  Let me expand on that: it is also the things that are talked about in the dark corners that we need to drag out and shine a light on.  This is how change happens.  When we hold this hateful rhetoric, which is never "just words", up to the light we can see them for what they really are– they are divisive, they are meaningful, and they cause harm.  They mean:  I do not respect you, I do not respect your right to personal autonomy, to safety, to be respected; these words mean I do not value your full and equal personhood.   This is not "locker room talk".  This is what sexual violence looks like- up close and personal- and this is not ok.
The good news in this is that when the light illuminates these dark places, it makes us all take a thoughtful second look.  In the time since Mr. Trump's remarks became public, many men from around the world have said that these words are not me, this is not my locker room, and this will not be my workplace.
So let us celebrate that idea, and these words spoken, some very public, some likely uttered privately around the world, and let us agree to no longer give misogyny a voice.
In support of this, I will include some comments that I personally found uplifting in this less than inspiring discussion. I hope these will be some of the words and ideas that we recall when this is all over.  It takes all of us talking together to make real change, and I am thankful to see that is happening.
http://www.independent.co.uk/news/people/tom-hanks-donald-trump-lewd-sexist-comments-offended-as-a-man-video-a7358246.html
http://www.vox.com/first-person/2016/10/10/13230346/donald-trump-locker-room-talk-chris-kluwe
http://www.nytimes.com/2016/10/09/opinion/sunday/donald-and-billy-on-the-bus.html?_r=0 (Lindy West)
To end, a reminder that tomorrow is  Winnipeg's annual march and rally for the Take Back the Night movement, with this year's theme being "Take Up Space." It is clear  that there are pressures placed on women's bodies to be small and silent in our world, as well as on the bodies of all who face oppression due to their race, gender expression, body size, sexuality, class and ability.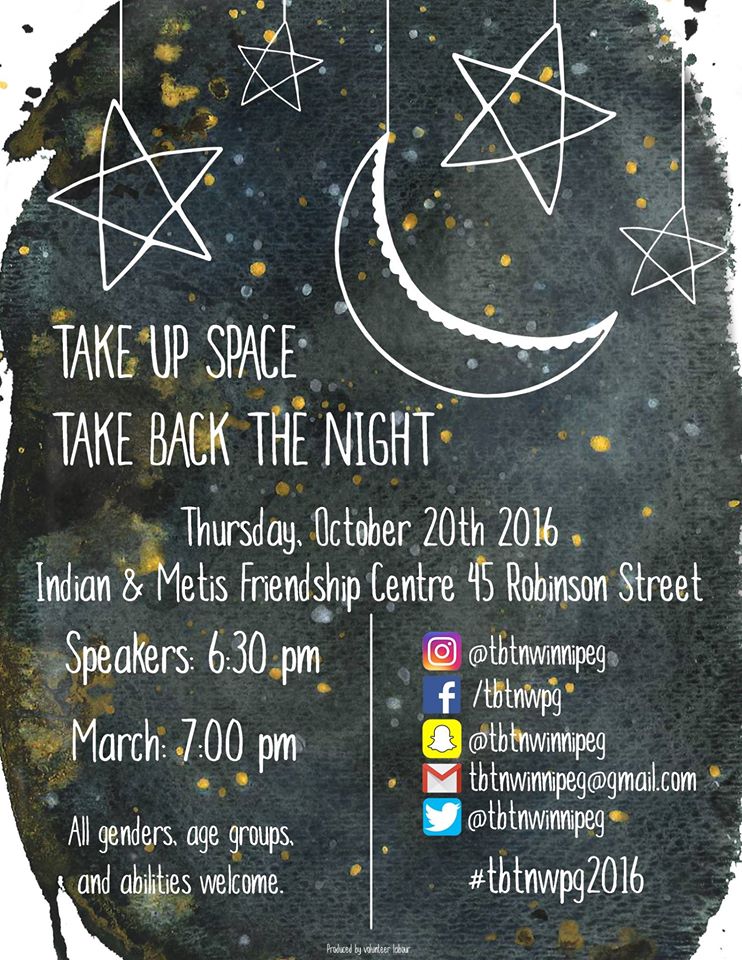 Join this international movement with us to work to end violence against women and all peoples, take up space, and take back the night!