At Klinic and SERC, our last strategic plan required implementing change at various levels that, while nowhere near the system level, are nevertheless significant for us. As we enter our last year of these plans, we are moving to the final pieces that we have identified as important in supporting our strategic directions, mission, and values. In the new year, I hope to chat more about what these changes mean and why and how they are important for our organizations, starting with Klinic.
– Excerpt from part 1 of this series.   Please click here to read part 1: Talking About Changes. 
Part 2: What About Our Values?
As we go through changes in our organizations, this is a question that comes up regularly, and I am guessing it is common in times of transition. Many of us come to this work because the values speak to us, so we are naturally concerned when we think they may be shifting. I think it is important that we highlight, how not only our plans at Klinic align with our strategic goals, they directly link to each of our values and will help us take our values into the future in a very real way.
I am currently taking the Values-Based Leadership program at Royal Roads University and I am appreciating how it supports me to be more thoughtful of how my own values align with those of my organization, and the people in it.  All of us likely have somewhat different values which have developed for us over the course of our lives.  However, working in a value- driven organization allows us the opportunity to hopefully see our values in our work everyday.  Though value conflicts may occur, it is my experience that they are largely in either interpretation of values, approaches, or that our values related to our own personal needs might be responding.  For example, questions like, how will this change the way I work and live?
The fact is, you may have precisely the same values as a colleague you are having conflict with, however, your image of those values in action are quite different. I think these moments are great opportunities to go deeper, to begin to understand our own values and those of the people around us. I encourage you to be curious when you feel that sense arising.
Klinic's Values: Social Justice, Leadership, and Responsiveness.
How are our changes moving us forward toward the Klinic vision of healthy and engaged communities?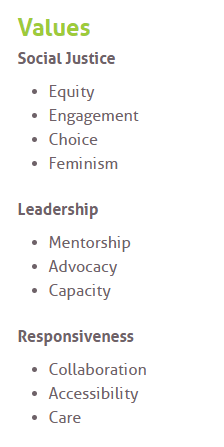 We recognize that we are both currently doing this work, and still have work to do, so what does that look like?
Social Justice (Equity, Engagement, Choice, Feminism)
Simple definition: justice in terms of the distribution of wealth, opportunities, and privileges within a society. (Dictionary.com)
I would suggest that this is considered the most foundational value of Klinic, and one we work hard to incorporate into our work wherever we can. When we talk about equity and distribution in healthcare we have an important role and work still to do. Increased ease, equity, and opportunities in access are fundamental to social justice-based care. We still have many systems that reduce the chances that the most marginalized of our population will access us. This includes things like: multiple forms of intake and phone numbers, requirements for call backs, waits for appointments and service, inability to access services how and when they are required.
What does/can social justice-based services look like for our clients? Ability to walk in/drop in or reach help directly, little to no wait, easy intake to multiple services that are coordinated into a wholistic care plan, ability for clients to identify provider and services required (control of service plan to the extent possible), services offered where and how they require (e.g. in-person, web-based, groups, community), services that are respectful of social determinants such as: culture, gender, sexual orientation, health and mental health status, income, choices, housing, and/or any other factors that influence their life circumstances.
What does/can social justice-based services look like for our staff?  Increased time in client care, more direction and involvement in care plans by clients and other team members, more equitable distribution of power and tasks within teams, increased time for dealing with immediate needs e.g. walk in or crisis, flexible hours over extended days, close team relationships with increased interaction and collaboration.
Leadership (Mentorship, Advocacy, Capacity)
There are many ways to define leadership but there are some core components, such as empowerment, and working towards a common good.  At Klinic several of our strategic directions align with our value of leadership, including taking leadership roles in the Canadian Association of Community Health Centres (CACHC) and Manitoba Association of Community Health (MACH), advocating for and leading the development of new projects and initiatives, mentoring and supporting other organizations with training, information, and resources, and partnering with other organizations on advocacy-based initiatives.
What does/can leadership-based services look like for our clients? Clients treated as empowered/partners in care, services support their capacity to move forward, feeling that choices are supported, meeting/starting from where they are, teaching skills and providing tools for self advocacy, involvement in planning individually and organizationally.
What does/can leadership-based services look like for our staff? Empowerment based services, creating care plans that have clear goals addressing multiple social determinants, mentoring and supporting colleagues and new staff, inter-professional teams with distributed leadership, staff/client committees working on organizational implementation strategies, supporting each other to work to full scope.
Responsiveness (Collaboration, Accessibility, Care)
The simplest definition of responsiveness is acting quickly. Looking at it through the lens of collaboration it would include working in partnership both inside and outside the organization to be able to provide quick, accessible and quality access to service our communities.
What does/can a responsiveness driven organization look like for clients? Accessible services where and when needed, services provided by the person best suited to address them, less time spent trying to arrange care, less time spent repeatedly telling or updating their own story, larger circle of support, clear expectations of services to be received, support to access care required both inside and outside of the organization, services planned around their individual needs, services offered at various times a day and days per week, services offered in ways that best meet their needs e.g. in -person, web-based, groups.
What does/can a responsiveness driven organization look like for staff?  Ability to address client concerns quickly, more time to deal with client issues as they are arising, ensuring client issues are being supported by the most appropriate team member at the time, less time by care providers spent on phone trying to track down or reschedule clients or doing other administrative duties, increased clients serviced through collaboration inside and outside the organization, more defined time lines and boundaries for services with clients.
How will our current organizational changes help us support these values?
Implementing micro-teams and role clarification: Focused on supporting equity within teams and with clients. Evidence based to improve client/team collaboration, staff satisfaction, access to service, and support empowerment-based care as well as efficiency and responsiveness.
Caseload management: Increase access, support empowerment model of care, increase utilization of other services and supports, and support efficiency/responsiveness through using the right provider.
Increased administrative support: Support equitable workloads between staff and programs, less provider time on administrative tasks, improve overall organizational functioning e.g. quicker and more consistent hiring and HR processes, funder reporting, grants management, donor relations, and evaluation.
Service expansions: Increased access to service (less wait and new options), increased ability to service people with barriers to access (geographical, cultural, SDOH), increased ability to offer services where, when and how people need them, and increased choice (e.g. harm reduction or abstinence based, access to group based, phone, in person, and web-based services).
Increased front end and crisis supports: Often the first voice someone hears, or face someone sees, can be critical to creating safety and confidence in a healthcare journey.

Increased staff and resources for crisis lines to ensure calls are answered in a timely manner and that important system navigation is supported from the start
Increased community host time and duties to support people from the moment they walk in our doors
New Intake Counselling and Administrative positions: Support current and future clients when they need us, increase provider time with clients, lower barriers to access (e.g. walk in)
Increased Drop-In Counselling Hours (Access, lowering barriers)
So what next? I will continue to use my blogs over the next few months to talk about changes as we are implementing them, and how they align with our vision, mission, and values.
In the next blog I will focus more specifically on Klinic's sister organization, SERC (Sexuality Education Resource Centre), and how some of these changes work in concert across both organizations, particularly as we prepare for our relocation in June 2020!