Tonight I am joining in for the first time with a Klinic Evolve Men's Group. I am excited to participate in this group, which I see as a cornerstone of Klinic's commitment to be part of the solution of ending domestic violence.  The reality is that, though anyone can experience domestic violence, women are disproportionately affected.
The Canadian Women's Foundation reports that half of all women in Canada have experienced at least one incident of physical or sexual violence since the age of 16. Klinic's Evolve Program provides services to women who have experienced domestic violence, and to men who are concerned their behaviour may be hurting their relationship:
The Evolve Men's Program is open to anyone who is concerned that their behaviour is hurting their relationship and the people they care about. The purpose of the program is to support men who want to stop behaving abusively with their partners.
The first stage of the program involves an open group educational format that focuses on decreasing abusive behavior and increasing respectful interactions in relationships. The second stage of the program involves a 20-week closed therapy group where men explore issues related to domestic abuse in greater depth. (Klinic website)
This is where we pick up, as I was able to participate with a group of men attending their second-last session in the first stage of the program, which we call prep. The group tonight contains six men who have come to this program in a variety of different ways.  During a break I ask some of the men how they found out about the service, and their responses included: through participating in other Klinic services like our drop-in counselling,  participating in a group at Salvation Army, and one man who saw an article about Evolve in the Winnipeg Free Press that resonated with his own story, and helped him realize this is where he felt he needed to be.
The group is facilitated by a member of our counselling team, Kara, whose skills in working with the group in a compassionate and open manner are evident from the moment that I first remove my shoes and come in. Every session starts with a check in on how everyone is feeling and I am warmed when I hear responses that include feeling optimistic of a brighter future, happy and confident.  I share my own feelings of being tired from a long week but happy to be with this group.   After check in there is a bit of a tradition of sharing herbal tea, which the men take turns serving to each other, followed by a short group meditation to help the folks settle in and be grounded.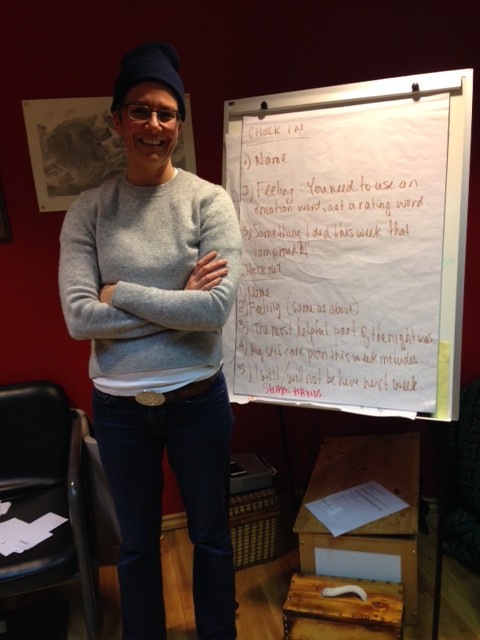 Tonight we are talking about boundaries. Kara describes several examples of boundaries, such as the Canada/US border, or our own skin.  We talk about what boundaries provide us, such as protection, and what they can do, such as flex and change over time.   We also talk about what happens when boundaries, like skin, are violated.  Often there is some pain, and a cut, maybe a scar.
There is an exercise to describe an example of a boundary, a comfort zone, and a preference that each of us have. For example, mine are:
Boundary: I prefer to be asked before being hugged by someone new
Comfort Zone: I like to know where I am going before I go somewhere (details)
Preference: I prefer dishes do not sit in the sink
We talk about what kinds of feelings come up when these boundaries and comfort zones are not respected. For many, often anxiety and fear arise when we move out of our comfort zone, irritation when our preferences are not honoured, and anger when our boundaries are violated.   We note that most our examples of boundaries involve our physical body, psychological health, or privacy (for example reading your partners text messages).
Kara leads the group through a discussion about how we talk about our boundaries with others, and how we respect theirs. There is a great deal of problem solving: what do we do when our boundary butts up against someone else's preferences? How do we navigate? A key lesson from the night is describing our boundaries early, and not when we are already angry.  We talk about what our fears are in discussing boundaries and how those are linked to our comfort zones.  For example: will I be rejected? Ridiculed? How will I handle those emotions?
As the group winds down they talk about next steps. The following week is their last session and they now have the option of joining the longer, more intensive main Evolve program.  Kara talks about what that will look like and the importance of commitment to the 20 weeks.  Tonight's closing activities include sharing a feeling about the evening and what they found helpful, along with goals for self-care this week.  The group participants all agree that they have never thought about boundaries in this way before and it has given them something to think about.  It has given me a few things to think about as well and I share with the group my gratitude for allowing me to participate in what has felt like a beautiful and intimate evening.
I'm reminded of some quotes that were shared with me recently from the last group of men completing the full 20 week program and I would like to end with a few that we received permission to share:
"I wanted to save my marriage and have a better relationship with my daughter; Evolve offered me the tools to do that."
"Up until I came here I thought I was going to be laughed at and disrespected but I wasn't. The whole group made me feel loved and welcome no matter what."
"It helped me attain more self-awareness for me – and stability at home, a sense of support in the community and acceptance, a better sense of belonging."